Rap Icons BIZARRE of D12 & KING GORDY are LARS, Unleash Outrageous New Music Video for "LARS"
*WARNING – VIDEO VERY NSFW*
LARS = LAST AMERICAN ROCK STARS
New Mixtape, Foul World, out 

October 30, 2017

 via Majik Ninja Entertainment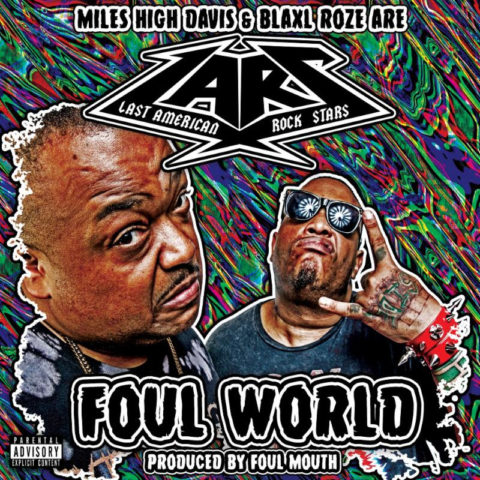 LARS
, a.k.a. the 
LAST AMERICAN ROCK STARS
, have finally signed with the only label in the world crazy enough to match their one-of-a-kind energy, 
TWIZTID
's Majik Ninja Entertainment. 
LARS
 – featuring rap icon Bizarre of 
D12
 fame as Miles High Davis and Detroit horrorcore shock rapper King Gordy as Blaxl Roze – will release their highly-anticipated mixtape, 
Foul World
, on Devil's Night – 
October 30, 2017
. The mixtape will be available to stream digitally on 
October 30
here
, and physically via 
www.Twiztid-Shop.com
.
LARS signed to expanding independent rap label Majik Ninja Entertainment this summer after recording demos at the label's studio with renowned Detroit rap producer Foul Mouth. After label owners TWIZTID heard the demos and saw the immediate potential in the project, there was no question in their minds that they had to sign LARS and put these finished tracks out as a mixtape.
TWIZTID says, "We've been a fan of Bizarre and King Gordy for years, it's a pleasure to welcome them to the MNE Family! These guys are legends in Detroit!"
Bizarre says, "King Gordy and I have been planning to do this project for 10 years, but with D12, it was hard for me to work on this. After years of talking about it, we finally decided to meet up with Detroit producer Foul Mouth. He is a beast and gave LARS a signature sound. That's why we decided to call the mixtape Foul World. The fans will truly enjoy this long-anticipated project. There is something on both the mixtape and upcoming album for everybody. Trust me, you don't want to miss out on this, you won't be disappointed. You've never heard Gordy and I like this before. We are the LAST AMERICAN ROCK STARS, there will be nobody after us!"
King Gordy adds, "Me and Bizzy came together because we are the last of a dying breed. Nobody is having fun anymore. It's all about stunting and having money. Well, we don't give a f-ck about that. We ain't rappers. we are the LAST AMERICAN ROCK STARS!! On the Foul World mixtape, expect a very disturbing version of hip hop. We intended to take horrorcore to a whole new level!"
LARS spawned from the same neighborhood in Detroit that both members grew up in (King Gordy was even featured in the famed Detroit-based movie 8 Mile starring Eminem). TWIZTID has been tight with LARS for years, having recorded tracks together and even performing together in Atlanta earlier this year.
Stay tuned for more coming from LARS soon. A new full-length album is scheduled to drop soon.
LARS online: