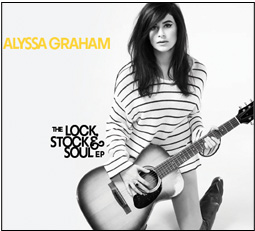 Last week I was given the privilege of speaking with critically acclaimed singer, songwriter, Alyssa Graham from her east coast home. 
From the get go, Graham welcomed me like I had been a long time friend- when she answered the phone, there was almost no need for an introduction as she said, "Hi Chuck!"
Graham was born just outside of New York City, where she was grew up and got her musical influences from hearing what her parents liked listening to.  Later in life, she and songwriting partner (now husband) Doug Graham combined their talents into some great sounds.  It's like a melodic melding of folk lyrics, contemporary jazz feel, soulful singing, and a twist of pop.  Whatever you call it, it grows on you, and sounds great. 
I recommend that you check out her collection of music including the new The Lock, Stock & Soul EP – Alyssa Graham here today.
You can also visit her site directly at: http://www.alyssagraham.com
iTunes collection:  Alyssa Graham
Download and listen to the interview here:  Alyssa Graham
Podcast: Play in new window | Download